In this issue of the Island Travel & Tasting Tour, we feature the secluded island of Anguilla. As with each island tour, we review the spirit brand for which the island is known as well as one of the most luxurious places to stay. In addition, we feature some of the local restaurants in order to give our readers a taste of what they can expect to experience. To go directly to one of the reviews, please click on the links below.
Featured Accommodations:
Cap Juluca
Featured Restaurants:
Côté Mer
Oliver's Seaside Grill
Barrel Stay
Veya

Featured Rum:
Pyrat Rum


ANGUILLA: SIMPLY PARADISE
There are many people who have never been to Anguilla. But of those who have, few people have been to Anguilla only once. The island is simply magical and you instantly form a special bond with it.
Anguilla, BWI is an English independent territory in the northeast corner of the Caribbean. Its greatest asset is its 11,000 industrious, conscientious, fun-loving, and welcoming people. With tourism as their largest industry, Anguillians are committed to showing you their beautiful island with pride and hospitality.
What Anguilla lacks in size, it more than makes up for in its much sought after Caribbean asset – pristine, powdery beaches. The island is long and thin, creating an endless shoreline of over 30 of the world's most beautiful beaches. Many are over 1½ miles long – and not one has a high-rise. Some are entirely unoccupied while others have beach bars or spectacular private villas. The waters off of these beaches are equally spectacular. Boasting 12 miles of white coral coastline, Anguilla is a snorkeler's and scuba diver's paradise. The weather is warm but always breezy. The winds come from the east and keep you cool during the day.
Safety, great beaches, beautiful accommodations, fabulous restaurants, popular local bands and hospitable people are what we discovered during our stay in Anguilla. Read below and take a tour of Anguilla, featuring Pyrat Rum, Cap Juluca and several of the best restaurants on the island.

TRANQUILITY WRAPPED IN BLUE
Cap Juluca
On the secluded southwestern side of the island, Cap Juluca appears on a crescent-shaped horizon with a stunning combination of arches, domes and turrets. The striking white villas are outlined against the blue sky and turquoise sea. Named after the Arawak Indian Rainbow God of Anguilla, this isolated romantic area is a true haven. The landscaped grounds feature tropical flowers and lush vegetation from the Cap Juluca nurseries.
Looking like a dazzling apparition out of North Africa, the austere Moorish-Mediterranean architecture here matches the mood of this enchanted island. Set like vertebrae along its private beach, the 18 white-washed villas impress with their simple elegance and ingenious design. Breezes blow through the main lobby – a central spot for rum punches during check-in, early-morning coffee as well as afternoon tea and scones. A lovely pick-me up after a day in the sun! Fixtures throughout the hotel are a blend of antiques and stylish contemporary furnishings upholstered in ethnic-inspired prints.


One of the most memorable parts of our stay at Cap Juluca was the staff. Upon our arrival, we were greeted by Juliette and led to the reception area off the main lobby. There, Karlene welcomed us and gave a brief introduction of the resort and the island. As one of the concierges, Karlene also assist guests with restaurant recommendations, car rentals, and transfers. We were then escorted by Linvil to our villa where we were met several other members of the Cap Juluca staff – including housekeeping, villa management and beach attendants. Our experience with the staff continued at the resort's weekly cocktail reception where we met Gary Thulander, the new general manager as well as the previous owners who still often visit Cap Juluca.
The accommodations are some of the largest on the island. Strung along the shoreline, the individual villas are reached by golf cart or easily by a stroll. Guests can transport themselves to all the property's facilities by using any one of the many solar golf carts strewn across the resort. The units range from large superior rooms to junior to suites to exquisite multi-bedroom villas with private pools overlooking the sea. Currently the resort is going through renovations on all of its villas and eventually each will boast its own private pool. Even without the renovations, the splendid decor matches the rooms' bright open design.


The beds are lined with elegant linens that top luxurious new king mattresses. Ceiling fans supplement air conditioning, and complimentary minibars, vast marble baths and Bvlgari spa toiletries are standard. In addition, Wi-Fi internet connection and flat screen TVs are just a few more of the amenities.
Upon arrival in our villa, a bottle of Pyrat XO, the island's native rum, tempted us as we settled in. As part of our Anguilla tour, we are featuring Pyrat and its blending facility so we were happy to see the rum bottle in each of the guests' rooms.
Many guests prefer villas 11 and higher for their increased privacy but no matter which villa you stay in, all have private patios or balconies that open up to a panoramic view of Maundays Bay. Each villa is just steps away from the powdery sand. There's nothing better than having breakfast each morning overlooking the turquoise water and hearing the waves crash all around you.

When you're ready to venture out to the pristine beach in front of your villa, be prepared for luxury to continue. The new lounge chairs are nothing like the norm. They are bed-like furniture pieces in the sand designed to provide continued comfort throughout your day in the sun. Honestly, we found this seemingly small facet to be one of the best features of our stay!

For dining, Cap Juluca offers three options: Pimms – upscale European-Caribbean fare; Spice – Pan-Asian cuisine with an island flare; and Blue – casual, beach-front dining. Although the resort restaurants are well-known, we decided to venture out each night to experience the vast array of fine dining offered on the island.
Bottom line, Cap Juluca provides a discreet enclave for those desiring a breathtaking setting and romantic experience that is truly unforgettable. www.capjuluca.com
AN ISLAND RICH IN FINE DINING


Côté Mer
Coming from Cap Juluca, Côté Mer is on the other side of the island near Shoal Bay. It's about a 25-minute drive as long as you don't take a wrong turn on the many roundabouts along the way. But even if you do, the island is small enough that you'll find yourself back on track within minutes. Pulling off the main road and into Côté Mer's sandy driveway, we didn't know what to expect. Since the restaurant was not top of mind with the concierge, we had little information to go on other than some research we did before coming to the island.
As soon as we saw the quaint, palm tree-lined lighted path leading to the restaurant's entrance on the beach, we knew this place was going to be different. Of course, we had no idea at the time how fabulous the food would be. But we would soon find out. Upon our arrival, Michel, the owner, warmly greeted us and led us to our table – one of only 10 in the restaurant. The atmosphere is raw and simple. Vaulted ceilings adorned with paintings by Michel's wife create a setting that is casual and inviting.
Michel, himself, served our table that night and he began by telling us the specials in his native French accent. Each dish sounded better than the next. But what was most unique is that no matter which appetizer and entrée you selected, the cost was $36. That's right. On an island where it's difficult to spend less than $200 for a dinner for two, Côté Mer offers a unique attraction. But, don't let that fool you into thinking it's just an average, casual dining spot on the beach. Far from it. We found the quality of food to be far superior to many well-known French restaurants. For appetizers we sampled the French onion soup, escargot and the asparagus wrapped in smoked salmon. The onion soup was prepared in the traditional way with chicken broth rather than beef broth and it was in a league of its own! For entrees, we had the chicken stuffed with liver and the jumbo shrimp a la provençale. Both were prepared splendidly. I won't go into the details about the rest of menu as you can read the full descriptions on their website. But I will tell you this – If you're looking for truly authentic French cuisine that enables you to taste the essence of what you're eating, then Côté Mer is the place. A true gem waiting to be discovered. www.cotemer-anguilla.com

Oliver's Seaside Grill
We had heard so many stories about Oliver's Seaside Grill from tourists, Anguillians and Cap Juluca's concierge. So, by the time we pulled down Oliver's long rocky path, it felt like we had already been there. On the beach overlooking Long Bay, the restaurant features continental cuisine in a relaxed romantic setting. Ms. B., who we soon learned has been the face of Oliver's for the past nine years, greeted us. Like many, she came to
Anguilla for a vacation after her children were grown and never left. That was 16 years ago. Now she spends her evenings making guests feel comfortable while offering her entrée suggestions. According to Ms. B., the stingray appetizer was a "must have". Perhaps I just don't have a palette for stingray since I thought it was simply okay. However, the rest of our meal – which included fish soup, poached snapper and blackened lobster – was delicious. And of course we can't forget the delightful dessert – grandmother's homemade coconut pie.
Once we finished dinner, we made our way downstairs to the open-aired lounge. Here, guests can enjoy a snifter of Pyrat XO and a cigar while watching the waves crashing just below. A perfect way to end an evening.
Oliver's is a family-run restaurant. As the name implies the owner's name is Oliver. But what you may not know is that one of his brothers is the executive chef, another brother is the pastry chef and a third brother and a sister work in the dining room serving guests. A true family affair that clearly has become one of the island's favorite restaurants. www.olivers.ai
Barrel Stay
Located in Sandy Ground, Barrel Stay sits right on the beach with a beautiful view of the yachts and sailboats anchored nearby. And if you time it just right, the sunsets are truly stunning. Husband and wife team, Graham and Jill, have created a restaurant that rivals any on the island. While Graham spends his time in the kitchen (as most chefs do), Jill serves as hostess greeting guests, describing the daily specials and offering her advice on menu selections. They are both charming people and we enjoyed chatting with them throughout our dinner.
For appetizers, we had the asparagus goat cheese salad and the tempura shrimp special. We had heard that guests wait all year for the shrimp special to be placed on the menu so we knew we had to try it. And it definitely lived up to its reputation. Not to mention the goat cheese salad was probably the best we've ever had. Our entrees (the salmon special and the chicken stuffed with mozzarella) and dessert (crème bruleé) were simply superb. But, what surprised us the most was the
presentation. Each dish was presented in such a creative way – similar to what you might expect from a 5-star restaurant in New York City.
We cannot say enough wonderful things about our experience at Barrel Stay – from the food, to the presentation, to the gorgeous views, to the delightful owners. We are so glad that we did our research and discovered this special place. Clearly, the hotel concierges need to branch out from recommending the same restaurants. It goes without saying that Barrel Stay is a MUST for anyone visiting Anguilla. www.barrelstay.com


Veya

Set back from the road on the way to Sandy Ground, Veya provides a unique, romantic "tree-house" atmosphere. Even though Veya isn't on the water like many other restaurants, it shouldn't deter you from experiencing something truly special.
Everything about Veya was consistent with what we had heard. The shrimp cigars are a great pick for an appetizer. For our entrees, we had the grilled jerk tuna and the vanilla cured duck. The flavors of the sauce and spices on the tuna were absolutely mouth-watering. Even better was the duck which was so tender and tasty – a delectable experience. In addition, owner Jerry (whose wife, Carrie, is the executive chef) also serves as the sommelier, expertly advising guests on wine parings with their entrée selections.
Jerry and Carrie came to Anguilla less than three years ago and have created a restaurant rich in décor that sets it apart from many of the other island favorites. Also, they recently opened a downstairs café which is popular for breakfast and lunch. Overall, Veya provides a romantic setting with top-quality food and a great presentation. www.veya-axa.com
THE RUM OF THE ISLAND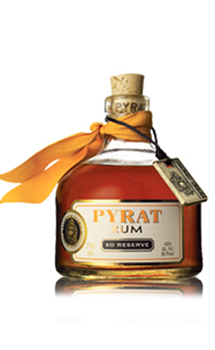 Pyrat Rum
One of the main reasons for embarking on our Anguilla tour was to find out more about one of the world's finest rums – Pyrat.
Located on the road leading to Sandy Ground, Pyrat's blending facility is prominently featured and tastings are open to the public. After our tasting, we were invited to experience a private tour of the facility.
Each of the rums in the Pyrat portfolio – Pyrat Cask 1623, Pyrat XO Reserve, and Pyrat Pistol, which take their name from the spelling of the old English word "pirate" – are blended and hand bottled on the island by Anguilla Rums, Ltd. Owned by The Patrón Spirits Company, production of Pyrat rums adheres to very unique and traditional aging and blending specifications, resulting in an elegant and distinctive ultra-premium spirit.
Pyrat rums are a precise blend of carefully selected Caribbean barrel aged "pot still" rums. ("Pot stills" produce a distinctively-rich, flavorful rum, whereas other "column still" rums tend to produce a very neutral alcohol product.) Many of the rums used to blend Pyrat are over 15 years old, which when further aged in Pyrat's individually selected imported oak barrels, produce flavor complexities not found in most other rums. Pyrat rums are aged in a combination of French Limousin oak barrels and specially toasted American sweet oak barrels.
Pyrat rums are characterized by their toasted apricot taste and amber color, and are smooth and gentle on the palate, not heavy or harsh. Pyrat rums are delicious in a snifter with a small amount of ice and a lemon twist, or mixed in a cocktail. The Pyrat portfolio includes:
Pyrat Cask 1623 (80 proof)
Similar in color and body to a rare cognac, Pyrat Cask 1623 is a limited production, very fine aged dark amber rum which takes its name from the year that rums first began being distilled in this region. The 750ml bottle, a handmade, one-of-a- kind numbered decanter, is packaged in a cedar box individually signed by the craftsman. Enjoyed with a fine cigar, Pyrat Cask 1623 is a perfect sipping rum.
Pyrat XO Reserve (80 proof)
Pyrat XO Reserve is a blend of ultra-premium aged rums that are perfectly balanced to produce an exceptionally elegant, smooth and delicious medium body rum. The Pyrat XO bottle (available in 750ml and 375ml) is designed to be reminiscent of the old rum bottles hoarded and traded by pirates and ship captains of the 1800s.
Pyrat Pistol (80 proof)
The Pyrat Pistol blend is similar in flavor to the ultra-premium Pyrat XO Reserve, though slightly lighter in body. The 375ml Pyrat Pistol bottle was inspired by a bottle size often carried on old English sailing ships.
Pyrat is truly a favorite with the local residents as well as with tourists. All of the bars and restaurants on the island proudly display Pyrat's portfolio of rums. It is no secret that "Pyrat Rum Punch" is one of the most requested cocktails on Anguilla! www.pyratrum.com