Front row at Jimmy Buffett!

By Kevin Wilkerson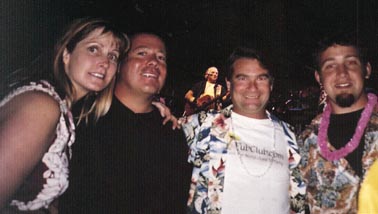 Every now and then, life feeds us a bone.
This is not a material item such as a million dollars or a new car suddenly showing up in the driveway. Rather, it's more like an acknowledgment for doing the right things – being a friend when someone needs a friend, being polite to others, being more of a giver than a taker.
PubClub.com was fortunate enough to have been on the receiving end of one of those bones on Memorial Day weekend when we obtained front-row seats for the Jimmy Buffett concert at Irvine Meadows in Southern California. That's right – the only thing between Jimmy and us was a stage, his guitar and a handful of nervous security guards in yellow jackets.
As ones who have seen Jimmy perform for years from just about every spot in this amphitheater – and indeed, at a second show two days later we were back to peon status in the last section of the reserved seats – we could not only completely appreciate our good fortune but also enjoy a Buffett show from a whole new perspective. Here are the facts about what we witnessed from this great vantage point:
Jimmy plays in his bare feet. The stage is covered with a carpet so he can roam freely in shoeless comfort. He's also as relaxed as his songs. He wears a t-shirt with cargo pants rolled up to his knees and speaks to the audience as if he is playing at a house party instead of a venue packed with 10,000 people.
The line from one of his live albums, "I love my job!," is not just, well, a line. Jimmy really enjoys performing.
He sported a huge ear-to-ear smile, laughed and ran around the stage acting like a teenager who just got laid for the first time. The crowd, decked out in grass skirts and straw hats with parrots or shark fins attached, is not an audience of strangers to him but "just a few friends." It's as authentic as a cheeseburger and it makes one proud to be a Parrothead.
In fact, Jimmy got so wrapped up in Saturday's performance that he actually forgot to play one of his signature songs, "Volcano." He mentioned this two days later, laughing so hard at himself that he couldn't finish an apology he had prepared.
The Coral Reefer band has a blast, as well. Peter Mayer, whom The Bartender once met on a photo shoot, leans from side to side to give his guitar playing extra energy.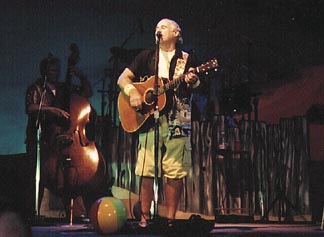 The Reefers have a down-home quality that makes them seem less like a big touring band and more like a group of your friends who got together to play a gig. Michael Utley, Buffett's longtime keyboard master, looks just like our buddy Hayney in West Palm Beach, Fla. – graying hair, a bit thick around the waist, dressed in shorts and sandals and jamming to Jimmy. We felt so fuzzy with the band that we wanted to invite them over to our bus for margaritas after the show. We got the feeling they would have accepted. (But we will gladly settle for the handshakes we got from Jimmy as he exited the stage.)
The show itself was extra-special. More than half was vintage Buffett, early songs such as "Frank and Lola," "Incommunicado" and "California Promises" performed with his acoustic guitar. Seeing the sea of hand fins swaying to the popular song from the front where we could view the entire crowd was one of the most memorable moments. For this one song, we turned out back to the stage. Awesome.
Come Monday, the atmosphere was much the same for his second weekend show. Even though he was now a spec on the stage from our much different vantage point, Jimmy's smile was still widely evident.
We've been smiling ever since.