THE 12 MOST UNFORGETTABLE BOURBONS

By Robert Plotkin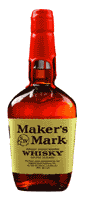 After 200 years, whiskies from the state of Kentucky are on the charts with a bullet. In fact, bourbon has become something of a phenomenon in nightclub and bars. Being tagged as a "good bourbon bar" is like getting a triple-A rating from Standard and Poor. You're likely looking at a bright financial future.
So what's behind the trend? To begin with, there's absolutely no pretense or snob appeal to bourbon. One doesn't need a refined, well-educated palate to appreciate its assertive character. Bourbon is affordable as well. You don't have to spend a week's paycheck to bring home a world-class contender.
Bourbon is a whiskey Americans can relate to. It's loaded with big, complex flavors, and has about the most captivating aroma of any whiskey. Little wonder its undergoing a popular resurgence. What's more, people can actually pronounce bourbon brand names, unlike many of the labels from Scotland whose names confound American eyes and tongues.
A great bourbon is unforgettable. But don't take our word for it, try any of the following and see for yourself what sipping an unforgettable whiskey is like.
• A. H. HIRSCH 16-YEAR-OLD POT STILL BOURBON — Made at the now defunct Michter's Distillery in Shaefferstown, PA, this incomparable whiskey is the only bourbon available produced in a pot still (second distillation), a laborious, time-consuming process that yields a remarkably luxurious spirit. The bourbon has a delicate bouquet and a seamlessly crafted body brimming with rich flavors. Act soon, only an extremely limited stock remains of this extraordinary bourbon.
• BOOKER'S KENTUCKY STRAIGHT BOURBON — This impeccable handmade bourbon is drawn straight from oak barrels and bottled in its natural state without being filtered or cut with water. Booker's is aged for six- to eight-years, selected from barrels aging in the center of the warehouse, where aging conditions are considered optimum. It's a huge bourbon, brimming with flavor with a smoky nose and a long, satisfying finish. Each bottle of Booker's has a personal, hand-written seal of approval and a seal with the whiskey's exact age and barrel proof, which varies between 121 and 127 proof.
• BUFFALO TRACE KENTUCKY STRAIGHT BOURBON — Introduced in late 1999, Buffalo Trace is a vivacious whiskey crafted at the Buffalo Trace Distillery, formerly known as Ancient Age, in Franklin County Kentucky. It possesses every quality and characteristic a great bourbon should. The bourbon is made from Kentucky and Indiana corn, selected rye and malted barley. The grains are milled, mashed with Kentucky limestone water and double distilled. This 90-proof gem has an enticing bouquet and a huge, mouth-filling palate loaded with tantalizing flavors.
The Buffalo Trace Distillery also produces BLANTON'S SINGLE BARREL BOURBON. A pioneer in single barrel bottling, Blanton's drinks like a well-aged cognac, possessing layers of flavor, and a broad, round bouquet. While it makes no age declaration on its label, most of the whiskey bottled by Blanton's reaches maturity after six to eight years. This red-hued whiskey is a "can't miss" proposition.
• DISTILLERS' MASTERPIECE BOURBON — Jim Beam's legendary master distiller, Booker Noe, has created an all-American whiskey so luxurious that it rightly should be auctioned at the Sotheby's. Distillers' Masterpiece is small batch Booker Noe Bourbon aged an amazing 20 years and finished in Geyser Peak port casks. Every aspect of this spectacular bourbon has been softened and enhanced by the port. The overall effect falls somewhere between sheer elegance and savory indulgence. This limited release by Jim Beam follows last year's debut of an 18-year-old Distillers' Masterpiece, a magnificent whiskey finished in de Fussigny Cognac casks. It, too, was unforgettable.
• EAGLE RARE KENTUCKY STRAIGHT BOURBON — This limited production heavyweight is bottled at 90-proof and aged for 17-years. The bourbon is highly aromatic, full-bodied and loaded with warm, bakery fresh flavors. The finish is long and rich with the sweet flavors of cocoa, spice and caramel.
Eagle Rare Bourbon is part of a three-bottle collection that also includes SAZERAC 18-YEAR OLD STRAIGHT RYE WHISKEY, a magnificent whiskey with a compelling bouquet and a muscular, well-textured body, and W.L. WELLER KENTUCKY STRAIGHT BOURBON, an exuberant and highly aromatic bourbon. Famous for using wheat instead of rye in its composition, this 19-year old has a sweet palate stuffed full of fruity and oaky flavors. The finish is big and robust.
• ELIJAH CRAIG 18-YEAR-OLD SINGLE BARREL — Despite spending the better part of two decades in oak, this single barrel bourbon has a fairly light bouquet and a well-rounded body. Its deep amber color is the first indication that Elijah Craig Single Barrel is a serious bourbon. It's a carefully layered mosaic of flavors, including toffee, vanilla, and charred wood. This classic bourbon experience finishes long and warm.
• EVAN WILLIAMS SINGLE BARREL 1992 VINTAGE BOURBON — The current vintage was distilled and barreled in the autumn of 1992. After resting for nine years in charred white oak, the whiskey is drawn from the barrel, diluted to 86.6 proof and bottled unblended. The bourbon is an extravaganza for the senses. It's dark, bold and loaded with zesty, bakery fresh flavors. Evan Williams Single Barrel Vintage is a vibrant, remarkable bourbon, a must-have for any top-shelf. Take a sip and you'll see why whiskey enthusiasts have snapped up the previous six vintages.
• GENTLEMAN JACK TENNESSEE WHISKEY — No, it's not a bourbon, but after the sip you likely won't care. Gentleman Jack is handcrafted from a recipe created by Jack Daniel himself at the turn of the century. The whiskey is aged in oak barrels for 4 years, and then mellowed twice in Tennessee sugar maple charcoal, once before being put in wood and once again after. A whiskey this wonderful could only have been conceived by Jack Daniel himself.
While you're at it, try JACK DANIEL'S SINGLE BARREL TENNESSEE WHISKEY. It is handcrafted straight from the cask, exactly as Jack Daniel intended it. The whiskey is hand-bottled one barrel at a time, with each label marked with the rick and barrel number, as well as the date of bottling. It has a disarming bouquet, a supple, wonderfully round palate, and a memorable, long lasting finish.
• KNOB CREEK — This small batch whiskey is aged for a minimum of nine-years in new white oak barrels. The inside of the barrels are seared over a low flame to bring out the natural sugars in the wood and then "flash-fired" to create a layer of charred wood. The depth of charring forms a layer of red caramelized wood underneath the charcoal. It is through the interaction with this rich caramelized layer that Knob Creek gets its deep amber color and savory, sweet flavor.
Unforgettable too is JIM BEAM BLACK, a tremendously flavorful whiskey aged in oak for a minimum of 8 years. It has a sweet, irresistible bouquet, a well-rounded body and an array of exquisite flavors. It has long been considered one of the top two or three best values in the category.
• MAKER'S MARK BOURBON — Arguably among the most recognizable whiskies in the world, Maker's Mark is skillfully crafted in small batches creating a superbly balanced, flawlessly textured whiskey. It is one of only a small number of bourbons to include wheat instead of rye in its mash bill. The bourbon has a marvelous bouquet of honey, vanilla, spices and fruit. The palate is loaded with the flavors of caramel, butter and notes of toasty oak. The whiskey has a relaxed and slightly smoky finish.
• MCKENDRIC WESTERN STYLE WHISKEY —What makes McKendric so distinctively flavorful is that it is mellowed with mesquite chips. This final step adds a most intriguing aspect to its character. The mesquite is prominent in the wafting bouquet and the spicy and vanilla laden palate. The finish is warm with a hint of smoke. Bottled at 90.4 proof, this outstanding whisky is handcrafted in Abilene, Texas. The company also makes MCKENDRIC LONGHORN CREEK WHISKEY, which is made by the same process, only it is marketed at 80 proof.
• WILD TURKEY KENTUCKY SPIRIT —This monumental single barrel bourbon has a seductive bouquet and seemingly countless layers of rich, savory flavors that completely fill the mouth. It offers a tremendous finish, long, lush and unforgettable.
WILD TURKEY RARE BREED is a limited-release bourbon bottled undiluted, unfiltered and at barrel-proof, ranging from 109.6 to 112 proof. A blend of six-, eight- and twelve-year old bourbons to ensure consistency between bottlings. Rare Breed is an exceptional whiskey with an enticing bouquet, a robust flavor and a fabulously smooth finish. No great bourbon bar would be caught dead without these representatives from Wild Turkey.